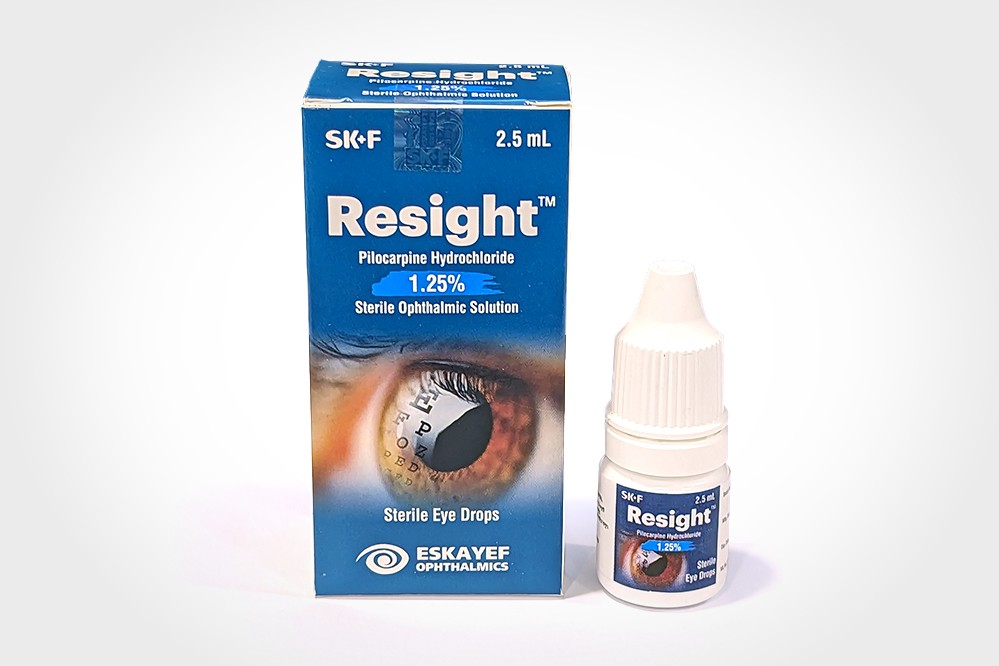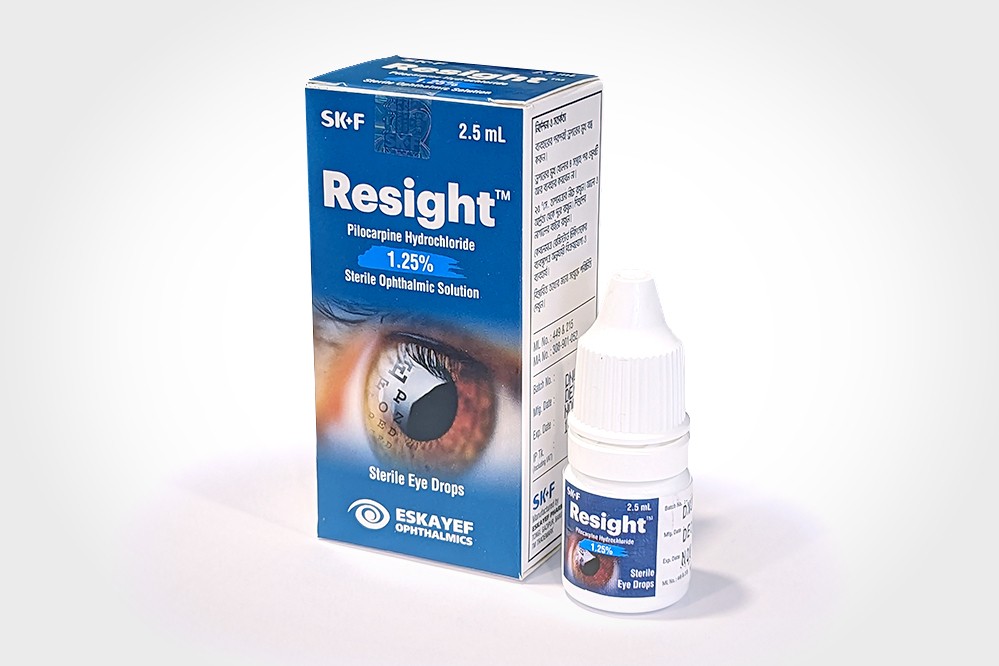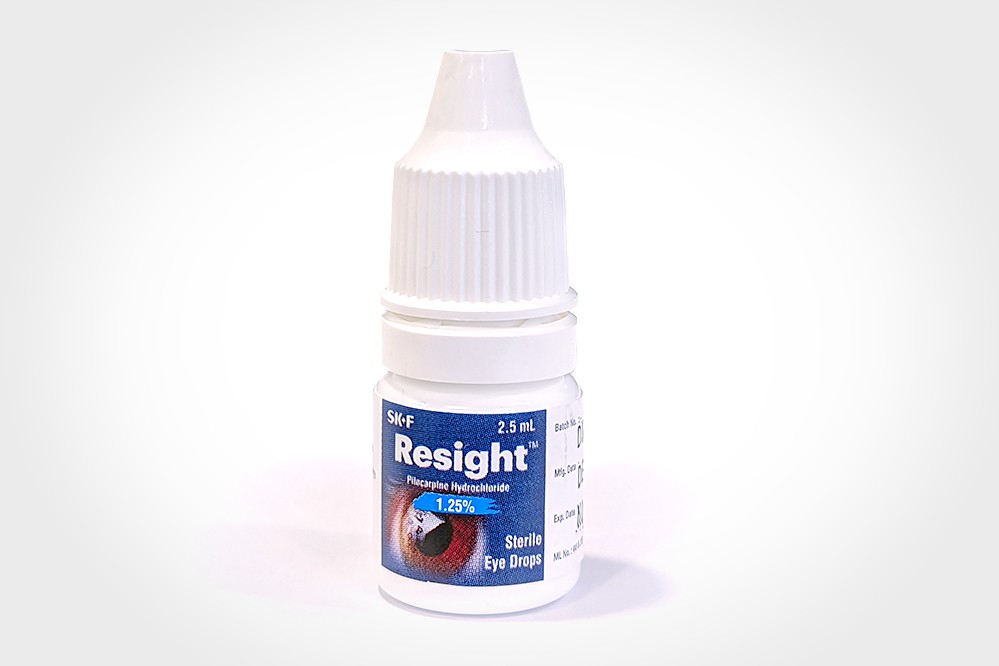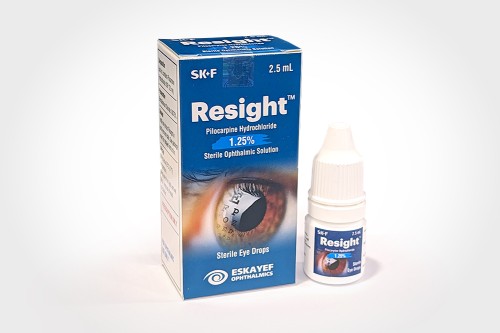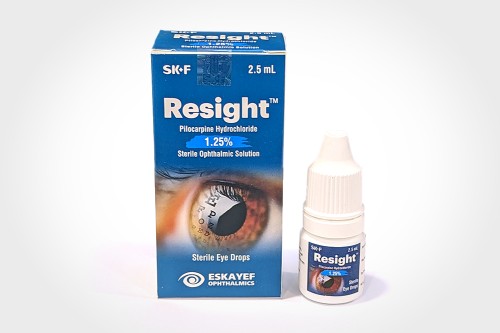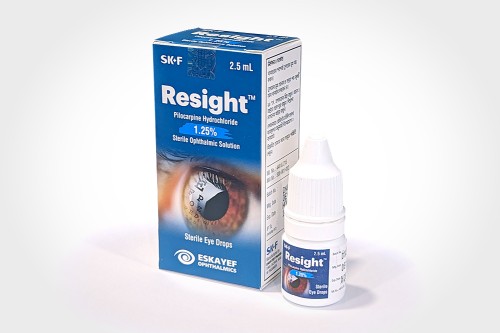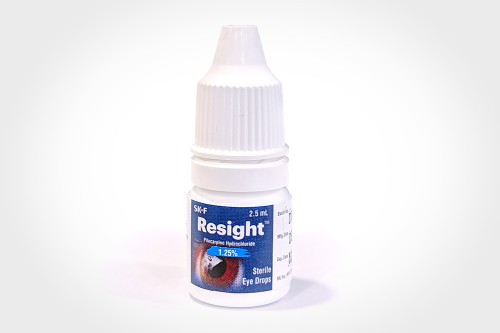 Resight
Generic Name
Pilocarpine Hydrochloride
Therapeutic Class
Ophthalmics
DESCRIPTION
ResightTM is a cholinergic agonist prepared as a sterile Ophthalmic Solution, containing 2% of Pilocarpine Hydrochloride. Pilocarpine Hydrochloride 2% is a miotic agent for topical administration to the eyes.
COMPOSITION
Each mL of ResightTM contains Pilocarpine Hydrochloride USP 20 mg as the active ingredient.
Preservative: Benzalkonium Chloride 0.01%.
CLINICAL PHARMACOLOGY
Pilocarpine Hydrochloride directly stimulates cholinergic receptors, it produces contraction of the iris sphincter muscle, resulting in pupillary constriction (miosis). Constriction of the ciliary muscle, resulting in increased accommodation; and reduction in intraocular pressure associated with an increase in the outflow and a decrease in the inflow of aqueous humor.
INDICATIONS
ResightTM Ophthalmic Solution is indicated for the reduction of elevated intraocular pressure (IOP) in patients with open-angle glaucoma or ocular hypertension, management of acute angle-closure glaucoma.
DOSAGE & ADMINISTRATION
Instill 1 drop 2-4 times daily. To minimize systemic absorption of the active ingredient of the eye drops, pressure should be applied for one minute on the tear duct after application.
CONTRAINDICATIONS
None.
ADVERSE REACTION
Most common adverse reactions are headache/browache, eye irritation, eye pain, blurred vision, and/or visual impairment.
PRECAUTION
• Poor illumination: Exercise caution in night driving and other hazardous occupations in poor illumination.
• Pre-existing retinal disease: Rare cases of retinal detachment have been reported; a thorough examination of the retina including funduscopy is advised in all patients prior to the initiation of therapy.
• Iritis: Caution is advised in patients with iritis.
• Congenital glaucoma: Caution is advised in pediatric patients with primary congenital glaucoma for control of IOP as cases of a paradoxical increase in IOP have been reported.
USE IN SPECIFIC POPULATIONS
Pregnancy
Pregnancy Category C: Animal reproduction studies have not been conducted with pilocarpine hydrochloride. ResightTM should be given to a pregnant woman only if clearly needed.
Nursing Mothers
It is not known whether this drug is excreted in human milk. Caution should be exercised when ResightTM is administered to a nursing woman.
Pediatric Use
Safety and effectiveness of pilocarpine hydrochloride ophthalmic solution in pediatric patients have been established.
Geriatric Use
No overall differences in safety or effectiveness have been observed between elderly and younger patients.
OVERDOSAGE
Overdosage can produce sweating, salivation, nausea, tremors and slowing of the pulse and a decrease in blood pressure. In moderate overdosage, spontaneous recovery is to be expected and is aided by intravenous fluids to compensate for dehydration. For patients demonstrating severe poisoning, atropine, the pharmacologic antagonist to pilocarpine, should be used.
PHARMACEUTICAL PRECAUTION
Store below 25 °C temperature. Keep away from light and wet place. Keep out of reach of children. To prevent contamination of the dropper tip and solution, care should be taken. Don't touch the eyelids, surrounding areas, finger or other surfaces with the dropper tip of the bottle. The bottle should be tightly closed when not in use. Do not use after 4 weeks of first opening.
PACKAGING
ResightTM Ophthalmic Solution: LDPE dropper bottle containing 10 mL sterile ophthalmic solution. Each mL contains Pilocarpine Hydrochloride USP 20 mg.